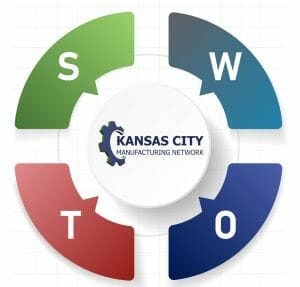 KCMN held its 3rd Annual 2023 SWOT Summit on Tuesday, October 10.
Manufacturers participated in this all-day event which included nine breakout sessions, main assembly presentations and many networking opportunities to share best practices with their peer manufacturers.
Congratulations to our 2023 Winners:
2023 KCMN Member of the Year - Tim Stevens, General Manager with Seats, Inc.
2023 Emerging Leader Rising Star - Ian Ritter, Custom Truck One Source
Announcements about Upcoming Events:
November Monthly Meeting "Supply Chain Optimization" - Tuesday, November 14
December Monthly Meeting "2024 Economic Forecast" - Tuesday, December 12
REGISTER for monthly meetings HERE
PRESENTATIONS
KCMN held its June meeting yesterday.  The topic of the meeting was The Great Game of Business.
A GGOB certified coach, Mary Davis from Missouri Enterprise, took us through the 10 stages of implementation and led us in a financial literacy exercise.  We learned that increasing sales is not always the best method of increasing profitability and that you can help improve your bottom line by educating employees to care about business outcomes.  The presentation deck can be found HERE.
Announcements about Upcoming Events:
There is no meeting in July. Hopefully, you will find time to take a vacation and recharge!
On August 8th, we have an annual networking event, which is a member favorite, at Boulevard Brewing Co!  Instead of networking with a cup of coffee or a glass of orange juice, you will be able to network with a cold beer (or other beverage of your choice).  You can register on the KCMN website.
The SWOT Summit planning is underway!   This day long event will take place in Lenexa on October 10th.  Save the date on your calendars!
We hope to see you at the Annual Networking event in August!  Have a great summer!
Kansas City Manufacturing Network's May meeting was an interesting one!  Held at Champion Sponsor The Miller Group's office on May 9th, the topic discussed was ACE (Adverse Childhood Experience) and how that can impact your employees' behavior responses to stressful situations.    Depending on their ACE score, employees may react to stress in ways that may affect their work performance, decreasing productivity, reliability, and negatively impacting your entire company culture.
Kansas Manufacturing Solutions has received a grant to partially subsidize a program to address ACE challenges in the workplace called "Evolving Company Culture".   6 manufacturing companies, 3 from a rural location and 3 from an urban location can participate in this 6-month program.  To be considered for this pilot program, being exclusively offered to KCMN and CKMN members, or to learn more about the pilot program, please complete this form on the KCMN.org website.  https://members.kcmn.org/kcmn-subgroup-form/Fill/rklNmFVp
The next KCMN meeting is scheduled for June 13th and we are excited to about the topic, The Great Game of Business.  For more information and to register, visit the KCMN.org website or use this link:  https://mamtcdbakansasmanufacturingsolutions.growthzoneapp.com/ap/Events/Register/DpBN2mkp?sourceTypeId=Website&mode=Attendee
KCMN's April meeting was held at KCMN member Grandstand Glassware's manufacturing facility in Lawrence, Kansas.
Jamey Steinhauser, Grandstand Glassware's COO, talked about Grandstand's history and client solutions. Since opening in 1988, GG has been growing, largely in part due to the explosion of craft breweries.  65% of their business is decorative glassware and 25% consists of apparel.
A banking industry executive took us through a very informative discussion of the banking industry. Scott Coup talked about:
The perfect storm of events that have led us to current industry conditions
The characteristics of the closed banks
Insured versus uninsured deposits
As a business owner, the need to be proactive and ask your bank questions
The importance of having a relationship with your banker
You can view the presentation via this link.
Attending members then took a tour of the Grandstand Glassware plant floor, seeing the decorative glass processes, their glassware inventory, the apparel printing operation, and their employee gym.