Connect
Network with other Kansas City area manufacturers.

Learn
KCMN manufacturers share best practices, learn from industry experts and participate in our exclusive "Emerging Leaders" development program.

Grow
Our working subgroups connect individuals in specific disciplines within our manufacturing companies to support corporate and personal growth.
Welcome to Kansas City Manufacturing Network (KCMN)
Kansas City's Premier Manufacturing Network
KCMN is a coalition of manufacturers in the greater Kansas City metropolitan area guided by local manufacturing leaders.  Manufacturing members are dedicated to helping industry professionals connect, learn and grow through networking, education and sharing best practices.
Provide your employees with online skills training from ToolingU! KCMN members receive a 10% discount on the training courses! TRY IT OUT!  SIGN UP FOR A FREE TRIAL!
KCMN's exclusive leadership development program designed to grow member manufacturing  employees identified for current and future leadership roles.
Read More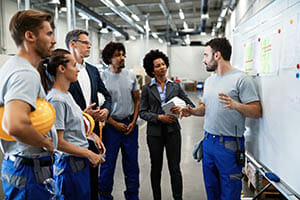 Subgroups
Our working subgroups connect manufacturing employees with others in like roles in member organizations to share best practices, problem solve and learn from each other.
As a KCMN member, you have access to a more effective approach toward employee health insurance. Your company can join a captive insurance program with fellow KCMN manufacturers.
Read More