Connect
Network with other Kansas City area manufacturers.

Learn
KCMN manufacturers share best practices, learn from industry experts and participate in our exclusive "Emerging Leaders" development program.

Grow
Our working subgroups connect individuals in specific disciplines within our manufacturing companies to support corporate and personal growth.
Welcome to Kansas City Manufacturing Network (KCMN)
Kansas City's Premier Manufacturing Network
KCMN is a coalition of manufacturers in the greater Kansas City metropolitan area guided by local manufacturing leaders.  Manufacturing members are dedicated to helping industry professionals connect, learn and grow through networking, education and sharing best practices.
Nominations are open for Kansas City Manufacturing Network's first ever Annual Awards.  Awards will be given in three categories and winners announced at the KCMN "Manufacturing SWOT Summit:  Becoming a Manufacturing Leader of the Future" on October 19, 2021.  Nominations will be accepted through Thursday, October 14, 2021.  You may nominate individuals and organizations for more than one award, as well as nominate multiple people or organizations for the same award  Click the links below to learn more about each award and to submit your nominations.
KCMN's exclusive leadership development program designed to grow member manufacturing  employees identified for current and future leadership roles.
Read More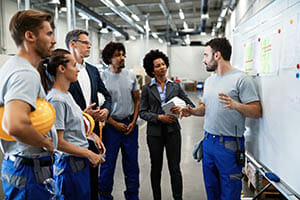 Subgroups
Our working subgroups connect manufacturing employees with others in like roles in member organizations to share best practices, problem solve and learn from each other.
Benefits of KCMN Membership
Networking with top manufacturing leaders in the greater Kansas City metropolitan area.


Best practice sharing in a wide variety of disciplines including Operations, HR, Maintenance, Supply Chain, Quality, etc.


Monthly meetings and Plant Tours


Leadership Development Program designed by fellow manufacturers


Working Subgroups focused on specific disciplines within manufacturing organizations.


Exclusive offers from KCMN Sponsors and Partners.
Sponsor Offer
More information coming soon!