Connect
Network with other Kansas City area manufacturers.

Learn
KCMN manufacturers share best practices, learn from industry experts and participate in our exclusive "Emerging Leaders" development program.

Grow
Our working subgroups connect individuals in specific disciplines within our manufacturing companies to support corporate and personal growth.
Welcome to Kansas City Manufacturing Network (KCMN)
Kansas City's Premier Manufacturing Network
KCMN is a coalition of manufacturers in the greater Kansas City metropolitan area guided by local manufacturing leaders.  Manufacturing members are dedicated to helping industry professionals connect, learn and grow through networking, education and sharing best practices.
KCMN Annual Awards Nominations are Open!
2021 marked the first year for KCMN's Annual Awards.  We're excited to continue this new tradition in 2022.  We will be awarding two awards at the SWOT Summit on Tuesday, October 11, 2022.  Please nominate employees, colleagues or other KCMN members you believe exemplify the qualifications for Emerging Leader of the Year and/or KCMN Contribution Award.  Nominations will be accepted until August 31, 2022.
Kansas City Manufacturing Network is successful because of our members, sponsors and partners.
We would like to recognize one of our members, sponsors or partners for their contributions to KCMN in 2022.  You may nominate someone from your organization or someone from another member, sponsor or partner organization who consistently adds value to KCMN.
Eligible candidates:
Consistently participate in KCMN activities.
Actively contribute to subgroups and/or engage with other KCMN members and sponsors.
Share their experiences, expertise and best practices with other KCMN members.
2022 Emering Leader of the Year Nomination
KCMN would like to recognize an emerging leader in one of our member manufacturing organizations.  CLICK THIS LINK to nominate your deserving employee or colleague for this award.
Eligible candidates:
Have successfully completed at least one of KCMN's Emerging Leaders tiers and received their leadership certificate. (May have completed tier(s) prior to 2022.)
Continue to show growth and development in their leadership skills.
Consistently contribute to the culture and success of their organization.
KCMN's exclusive leadership development program designed to grow member manufacturing  employees identified for current and future leadership roles.
Read More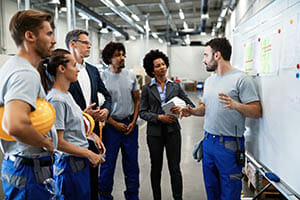 Subgroups
Our working subgroups connect manufacturing employees with others in like roles in member organizations to share best practices, problem solve and learn from each other.
As a KCMN member, you have access to a more effective approach toward employee health insurance. Your company can join a captive insurance program with fellow KCMN manufacturers.
Read More